Friday, April 20, 2007
A happy ending to a long journey
April 20...a date that stirs up so many different feelings in me. My first m/c was on April 20. Two years ago today I found out that IVF was our only hope to have a family. My first blog post was on April 20. Today April 20, 2007 my babies are 4 months old. I can finally smile on April 20 as I wipe my tears for my angels.

I think it's appropriate that I end this blog on April 20. The reason I started it was to share my TTC journey. I wanted a place where I could express how I felt. I also wanted to show my children this "journal". I'm not sure about that but will be printing it as a keepsake for me.
As I end this blog I close a chapter in my life. Although it was a very painful chapter I am a better person for it. IF has forever changed who I am and my outlook in life. I've learned not to take things for granted and most of all I have faith. There were many times when I doubted that I would be holding two babies but giving up was harder then going on.

When I started this blog I never imagined that at times it would be my only support system. Strangers have become my friends. You reached out to me and helped me at my most painful times. I cannot thank you enough for your words of encouragement and never ending support.

I know that I have not posted or visited blogs in awhile but please know that my thoughts and prayers have been with you. You are all wonderful and I wish you all the very best.

Many blessings and much happiness to all of you. Don't lose hope and always hold onto your dreams. Dreams are our inspiration.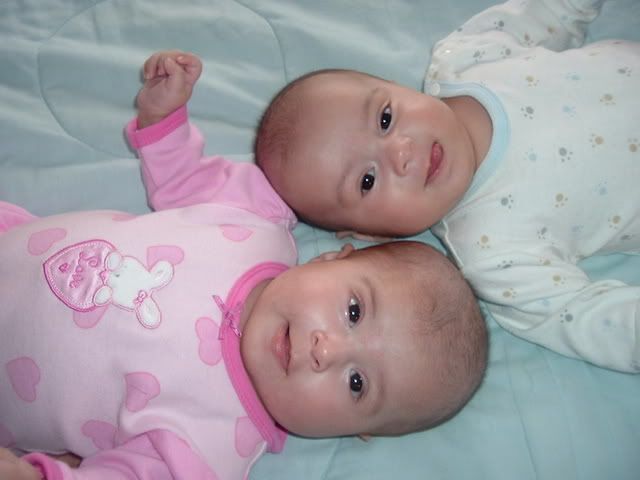 Hugs from Hannah and Matthew


| posted by Liz at 12:05 AM |
25 comments

Monday, February 12, 2007
Twins Rule
I can't believe on Wednesday they will be 8 weeks old. So much has happened in that time. I have been riddled with so many feelings - happiness, fear, anxiety, sadness, guilt...it seems the emotional roller coaster doesn't end. As you can imagine having twins is very time consuming but I also feel other things have made things more difficult. I won't get into details now because I am still trying to sort things out and hope with clarity comes understanding.
I've faced some challenges with motherhood (no experience with newborns or infants) and it has made me doubt my abilities but those moments when they look up at me and smile let's me know I'm doing okay.
Anyway.....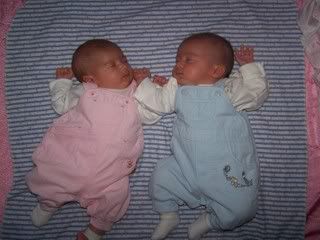 In 8 weeks they have grown so much. I remember how tiny they were when they were born and how scared I was to pick them up. Now they are stronger, hold their heads up, and are not as fragile although I must admit I still get a little scared.

Matthew weighs 11.2 lbs. and measures 21 1/4. He is VERY active. He giggles, follows us with his eyes, has a beautiful smile and is playful. At times it looks as if he is riding a bike. As you can tell by the weight gain he has a hardy appetite.

Hannah weighs 9.14 lbs. and measures 21 inches long. She giggles, has big beautiful eyes, and makes a face that melts your heart. She loves to be rocked, is cooing, and likes the song mommy sings to her (she's the only one that likes my singing).
The twins are colicky which makes nighttime very difficult and sleep scarse. They also have reflux which is being treated with zantac and we changed their formula to soy milk. It seems to be helping and last night we actually slept a total of 4 1/2 hours. I am fortunate to have my mother to help me. At times she does more of the care taking then I do.
I feel VERY blessed to have them. I always wondered why I struggled with infertility and was angry that IVF was our only hope now I know that I had to go through that in order to have them. Was it worth all the pain.....YES!!!!!!!!!!!!!!!!!!!!!!!!!!!!!!!!!!!!!!!!!!!!!!!!!!!!!!!!!!!!!!!!!!!!!!!!!
| posted by Liz at 8:28 PM |
13 comments

Tuesday, December 26, 2006
Our bundles of joy
It is with much happiness that I write this post. For so long I thought our dream would not come true and on Dec. 20th at 2:20 and 2:22 PM we were blessed with Hannah and Matthew.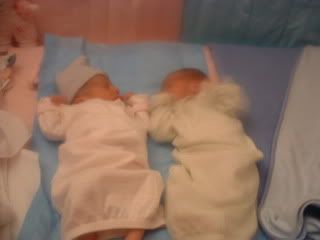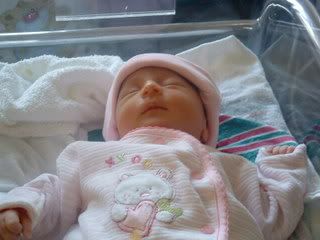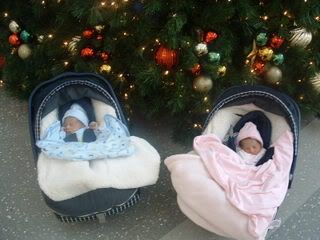 We are full of so much joy. Thank you so much for your support during this long journey.
I will post more when things are more settled.
| posted by Liz at 2:07 PM |
27 comments

Thursday, December 14, 2006
The countdown begins....
I went for my regular appointment yesterday and was given a star for Hannah's amniotic fluid increasing. It went from 2.9 to 3.1. They were very pleased and of course so was I. We were able to see the twins breathing...what a sight. It pleased me very much to know they are able to breathe on their own. I had the group B strep test and while they were doing that they checked my cervix and I was 2-3 cm dilated. That prompted the doctor to move up the c-section date to....Wed. Dec. 20. A week away...oh my, I can't believe it's that soon. I am nervous and of course excited. There are still some things I have to get them, including their Christmas outfits. Jenna, I will try to remember to get the stockings.
Thanks for your good wishes!
| posted by Liz at 4:37 PM |
18 comments

Saturday, December 09, 2006
The end is near....
Bedrest hasn't been too bad. With all the appointments I have it doesn't seem as if I'm on bedrest. I had a BPP (biophysical profile) and Hannah's amniotic fluid was low (2.9) so I am being monitored more closely now. I have to go to the hospital Tuesdays and Fridays for a non-stress test and Wednesdays to the clinic for my regular appt and BPP. It won't be for too long because the tentative c-section date is Dec. 26!!!!!! If the fluid drops then they will do it sooner.

Must admit I'm glad the end is near...it is so hard to get around, everything hurts. I feel guilty saying it but it's true. Sitting is uncomfortable, walking is a very hard task. Matthew's head is up my rib cage and Hannah is very low. No matter what I still don't want them to come before 36 weeks although based on the measurements they would be fine if I went into labor. At 34 weeks Hannah is weighing 4 lbs 9 oz and Matthew weighs 4 lbs 13 oz. They will definitely be coming home with us.

We are so thrilled that they will be born soon. I think Ivan is more excited then I am. Anxiety is kicking in and I'm starting to question my ability to care for them. Fortunately I will have my mother to help me so that is a relief.

Hope everyone is doing well.
| posted by Liz at 1:01 AM |
8 comments

Wednesday, November 29, 2006
The Waiting Begins
Hi there, sorry for the delay in an update. It seems I'm not in much of a mood to go online, could be because of the pain that I feel when I sit for a while. Anyway I am 33 weeks PG...wow!! I can't believe I've come this far. Things have been going well but in the last 2 weeks my cervix has been shortening. It is .66 and as the midwife put it I "can go at any minute". Knowing that I might possibly go into labor has been pretty scary. So much for planning for things. I'm back on bedrest and try my best not to stress about anything. I'm hoping the twins will stay put until at least week 36, 37 would be great. I know at this point things would be okay with them I just don't want to think about how tiny they will be and how they will be in NICU. I cry when I think about it....moving on to another topic because the water works have started.

My shower was on the 18th...it was great. It was so nice seeing family and friends that I haven't seen in awhile. We got so much stuff that I really don't have to buy them anything, just some preemie outfits. I purchased their go home outfit yesterday (yes, I know I'm not suppose to be shopping but I changed my mind as to what I wanted them to wear). If I can find the connection cord for my camera I will post a pic. Of course when they arrive there will be pics.

Pain is starting so I will end now. Send lots of sticky vibes my way.
| posted by Liz at 11:41 PM |
8 comments

Tuesday, October 24, 2006
28 weeks
I am 7 months PG today....wow, I can't believe it. I don't have any updated belly pics but promise to post some next week.
Here are our munchkins at 27 weeks: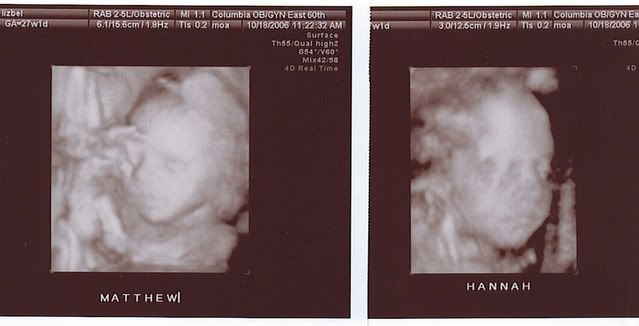 I can't believe how big they've gotten. We think Hannah looks like me and Matthew like Ivan but we'll know the truth when they arrive. I still don't have a due date. My ob had stated I would have a scheduled c-section between 36-38 weeks so I thought my dr would say the same. Last week I met with my dr (maternal fetal medicine specialist who specializes in multiple births) and she stated I could have a normal delivery around week 39. All this time I have prepared myself mentally for a c-section so now to prepare for oh natural is stressful. I was able to talk to her about it and she agreed to a c-section since I'm not going to have any more children after the twins. I'll see if in 3 weeks I can convince her to go earlier. I was hoping they would be here before the year ended but if waiting will be best for them then so be it.
I've gained 30 lbs and boy do I feel it. I get out of breath when I walk a few blocks so imagine how I feel when I go up the stairs (I live in a 3rd floor walk up). No cravings...can you believe that. My only discomforts are back pain and of course the swollen legs and feet...small price to pay for our little ones.
My work shower went very nice until a co-worker started saying how happy she was for me and talked a little about my struggle and how she had offered to be our surrogate. It annoyed me because only a few people knew what was going on. Of course it reminded me of the pain I had felt for so long and I couldn't hold back the tears. I blamed it on the hormones and played it off as if I was reading the card. They got us the car seats and a gift card for me to use to pamper myself before or after they are born.
I will end going down memory lane....13 years ago today I met Ivan.
| posted by Liz at 6:22 PM |
15 comments