I am 7 months PG today....wow, I can't believe it. I don't have any updated belly pics but promise to post some next week.
Here are our munchkins at 27 weeks: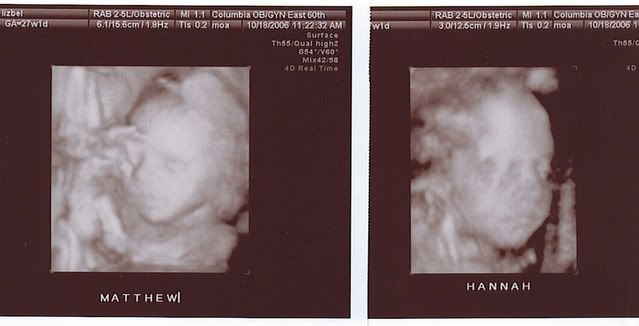 I can't believe how big they've gotten. We think Hannah looks like me and Matthew like Ivan but we'll know the truth when they arrive. I still don't have a due date. My ob had stated I would have a scheduled c-section between 36-38 weeks so I thought my dr would say the same. Last week I met with my dr (maternal fetal medicine specialist who specializes in multiple births) and she stated I could have a normal delivery around week 39. All this time I have prepared myself mentally for a c-section so now to prepare for oh natural is stressful. I was able to talk to her about it and she agreed to a c-section since I'm not going to have any more children after the twins. I'll see if in 3 weeks I can convince her to go earlier. I was hoping they would be here before the year ended but if waiting will be best for them then so be it.
I've gained 30 lbs and boy do I feel it. I get out of breath when I walk a few blocks so imagine how I feel when I go up the stairs (I live in a 3rd floor walk up). No cravings...can you believe that. My only discomforts are back pain and of course the swollen legs and feet...small price to pay for our little ones.
My work shower went very nice until a co-worker started saying how happy she was for me and talked a little about my struggle and how she had offered to be our surrogate. It annoyed me because only a few people knew what was going on. Of course it reminded me of the pain I had felt for so long and I couldn't hold back the tears. I blamed it on the hormones and played it off as if I was reading the card. They got us the car seats and a gift card for me to use to pamper myself before or after they are born.
I will end going down memory lane....13 years ago today I met Ivan.