I can't believe on Wednesday they will be 8 weeks old. So much has happened in that time. I have been riddled with so many feelings - happiness, fear, anxiety, sadness, guilt...it seems the emotional roller coaster doesn't end. As you can imagine having twins is very time consuming but I also feel other things have made things more difficult. I won't get into details now because I am still trying to sort things out and hope with clarity comes understanding.
I've faced some challenges with motherhood (no experience with newborns or infants) and it has made me doubt my abilities but those moments when they look up at me and smile let's me know I'm doing okay.
Anyway.....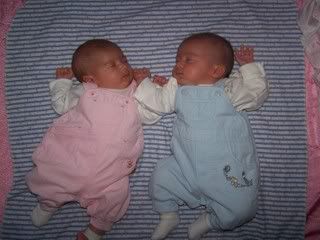 In 8 weeks they have grown so much. I remember how tiny they were when they were born and how scared I was to pick them up. Now they are stronger, hold their heads up, and are not as fragile although I must admit I still get a little scared.

Matthew weighs 11.2 lbs. and measures 21 1/4. He is VERY active. He giggles, follows us with his eyes, has a beautiful smile and is playful. At times it looks as if he is riding a bike. As you can tell by the weight gain he has a hardy appetite.

Hannah weighs 9.14 lbs. and measures 21 inches long. She giggles, has big beautiful eyes, and makes a face that melts your heart. She loves to be rocked, is cooing, and likes the song mommy sings to her (she's the only one that likes my singing).
The twins are colicky which makes nighttime very difficult and sleep scarse. They also have reflux which is being treated with zantac and we changed their formula to soy milk. It seems to be helping and last night we actually slept a total of 4 1/2 hours. I am fortunate to have my mother to help me. At times she does more of the care taking then I do.
I feel VERY blessed to have them. I always wondered why I struggled with infertility and was angry that IVF was our only hope now I know that I had to go through that in order to have them. Was it worth all the pain.....YES!!!!!!!!!!!!!!!!!!!!!!!!!!!!!!!!!!!!!!!!!!!!!!!!!!!!!!!!!!!!!!!!!!!!!!!!!