Tuesday, May 30, 2006
2 more days!
I'm anxious and eager about my u/s on Thursday. I can't believe it is finally here.
I'm still adjusting to the fact that it worked. Sometimes I wake up and I have to remind myself that it isn't a dream...my dream has come true! It's funny how I've wanted this for so long and now that it's finally here it's hard to rejoice in happiness. I'm trying not to get consumed by my fears of "something going wrong". I have to believe that all will be well.
Ivan is starting to get nervous about the u/s. He's been going online and checking to see what we should expect to see. He's very happy and is pleased that we will be telling our family afterwards. This weekend he went shopping and purchased things for the baby - girl and boy. He's hoping for twins while I think it's a singleton. It doesn't matter how many there are we're having a baby and that is all that matters.
It's hard to put to words how I'm feeling. In some ways I'm still in shock but I'm also being cautious.
Still no symptoms except for the side effects. The back pain has decreased significantly. I'm still huge and getting bigger everyday. I purchased a pair of capris on Wednesday and when I wore them on Sunday I had to take them off after an hour because they were so tight...unbelievable. I'm not really complaining, it's just annoying that it's happening so fast. There doesn't seem to be a transition. My bum is swollen and bruised from the PIO shots. Oh the joys of an IVF pregnancy...yes, the joy!!!
| posted by Liz at 10:11 AM |
20 comments

Thursday, May 25, 2006
1WW
One more week for my u/s....I can't wait!
Things have been okay. I'm very tired (from the PIO) and I'm feeling overall "yucky". I have a weird feeling in my stomach. I've been having lower back pains which make it hard to walk and sit for long periods of time (not that I can help it at work). The dr had warned me that if I got PG the pains would get worse...he wasn't exaggerating.
Today I started to feel PG. I still can't say I'm PG. I'm happy about it but of course I'm also anxious. For now I am cautiously optimistic.
We still haven't told anyone. I told my sister (well Misty told). It was a beautiful experience. I don't think I've felt closer to her....she hugged me for a few minutes and cried....it was very sweet. I think we will tell our family next week after the u/s. If it was up to Ivan everyone would already know.
Ivan is VERY happy and is being a wonderful father-to-be....very supportive and protective. He's having a hard time with me not being as openly happy as him and is concerned that I'm not pleased with the PG. He doesn't understand why I have my concerns.
The meds have really done a number on my body. I am bloated and just feel and look fat. It's annoying that the majority of the changes I'm going through are because of the meds. I've been reading some pregnancy books and half the things don't apply to me. I'm having symptoms that I should be having much later. I think one of you IVF preggo mommies needs to write a book about an IVF pregnancy. I started writing in my PG journal. I was considering waiting until after the u/s but decided against it. I want to be positive. I will take it one day at a time, one milestone at a time.
Thanks for checking up on me. I will visit blogs tomorrow (all I can do at work is update my blog via email).
| posted by Liz at 6:26 PM |
18 comments

Tuesday, May 16, 2006
It's still sinking in
I am still in shock and afraid to use the "P" word. All I can say is "it worked". I really can't believe it worked. I can't believe we are one step closer to our dream. I am so happy and of course with it comes tons of worry but I will take it one day at a time or in this case one milestone at a time.
I go for my 1st u/s on June 1st.... I can't wait to see my lil' bean. The next two weeks feel so far away.
I am 5 weeks today but I look more like 5 months PG. I'm not having any symptoms, not that I would expect any at this point. I'm just having side effects from the meds. Dr. S had me stop the PIO and switch to hCG 5000 3x a week. Well you can just imagine how that ended up. We all remember our trigger shot. The day after my first shot I was huge. I had purchased an outfit on Thursday to wear on Saturday and I'm not exaggerating when I say it did not fit. As if that wasn't the only problem I started having the pains again in my ribs, side and lower back. Today 4 days later I am still in pain. Fortunately Dr S let me go back to the PIO and I continue the suppositories. The reason he prefers to do hCG is that it will help the body produce it's own progesterone. Well I felt and looked as if I was producing more than that.
We haven't told any friends or family...I'd like to wait until 10-12 weeks but I doubt I can pull it off. After the u/s we will most likely tell our family. I will be telling my sister on Friday. Ivan wants to shout it out to the world while I want to keep it a secret for just a little while longer.
I can't believe I'm here...I had lost all hope that it would ever happen. It was like a bad nightmare that I couldn't wake up from.
| posted by Liz at 3:21 PM |
26 comments

Wednesday, May 10, 2006
Finally got the results
I knew the waiting would not be easy. I've done my best to think positive but last night all hope vanished when I went to the bathroom and there it was bright red....BLOOD. For those of you that have shared my journey with me you know that I start to spot and bleed a few days before my beta. This was not what I wanted to see. Maybe this was a sign of what awaited me.

This morning I did a HPT and I got a + but it was sort of faint. At 10dp5dt I wasn't expecting a faint +. I saw the two lines and I didn't get happy. All I thought about was my first cycle. I got a + and then it all came tumbling down. Was this what was going to happen again? I didn't tell Ivan about the + because I didn't want to worry him. He had also asked me not to test. He is crazy if he thought I was not going to test.

For the first time I was happy that the clinic didn't give the results of the 1st beta. I'm glad I will get both results at the same time. If it didn't double then I know there is a problem and don't have to wait another 2 days hoping it will improve.

When they finally called my heart was racing. I did my best to sound calm when all I wanted to do was scream from the nervousness.

I didn't know how to tell Ivan so I let Misty, my darling cat, give him the news.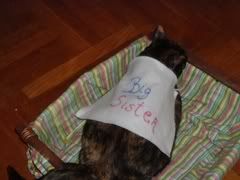 YES, it worked...OMG, it worked!!!!!!!!!!!!!!!!!!!!!!!!!!!

8dp5dt beta was 156.6
10dp5dt beta was 414.7
| posted by Liz at 4:55 PM |
48 comments

Waiting
Still waiting for the call. They said they would call after 3 .... this is so nerve wracking.

Thanks so much for the good wishes. Will update as soon as I get the call.
| posted by Liz at 3:06 PM |
6 comments

Saturday, May 06, 2006
4 more days to go
Today is 6dp5dt. I find out on Wed. if it worked....I'm so nervous. I actually go on Monday for my 1st beta and on Wed for the 2nd. SIRM does not give you the results of the 1st beta, which they use as a baseline. I will get a call on Wed with both results. I can't believe they do that...don't they know how hard it is to wait. Of course I will be testing before that. I did a test on Wed to make sure the hCG from the trigger shot was out of my system....was so happy when I saw the -. I wanted to test this morning but I woke up 2-3x last night to use the bathroom so FMU was impossible.
I went on Wed. to see Dr. S because my pain was getting worse. The pain is from hyperstimulating. He didn't do an u/s because he didn't want to do any poking since implantation would have been on Tuesday. He is hopeful that it worked. Yesterday I finally started to feel some relief from the pain and the bloating is starting to go down. I'm huge from the bloating. I look about 5 months PG and I gained so much weight this cycle. The dexamethasone gives me the munchies and you all know how much I love junk food.
My bum is already reacting to the PIO. Dr. S gave me a prescription for Crinone and I got it but read how it can cause birth defects if taken during early pregnancy. I went online and got more info on that. Of course now I'm having second thoughts about taking it and may just deal with the soreness from the PIO.
I found out that we have 6 snowbabies!!!!! If for some reason this doesn't work we will definitely do FET. This was definitely my last fresh IVF. It was so painful after the ER. Usually I'm back to normal activities right away but not this time. The following day I was still in pain. I've read that when you've cycled a lot your body takes more time to heal, especially your ovaries.
I'm trying to have a positive attitude. This was a great cycle and all I can do is hope that it worked. We've already had the "what if it didn't work" conversation. [It's always good to have a Plan B.] It's hard to give up and we don't want to but are willing to do 1-2 FETs and then it's time to discuss other options. Hopefully we won't have to go down that road.
Wish Wed. was here already.
| posted by Liz at 9:16 AM |
31 comments

Monday, May 01, 2006
Embies are hopefully snuggling in
Meet Apricot and Buttercup. Thought I'd choose some goofy names.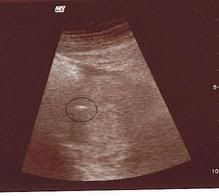 I'm happy to report we were able to transfer 2 genetically healthy embryos or as the dr and nurse kept calling them babies. In the embryo picture you can see that one is already hatching. Very positive sign according to the nurse. The other pic is the u/s of the transfer. The white light/spot that is circled are the embryos in fluid. It is so amazing when you see them going in and how they twinkle like a star upon being released.

I was so nervous these past few days that we would get there and they would tell us none had "passed" the testing. Sunday morning I got the call that 2 would be transferred. They are still watching the others for possible cryopreservation. They will let me know tomorrow.

I am on cloud 9. This is the best cycle we have had and these are the best embryos. Dr. S was so optimistic that this will work. He signed my book and ended with "P.S. You will be a mom". I know doctors are supposed to be reassuring but hearing it from him meant so much.

After each transfer I leave the clinic feeling hopeful. Of course we all hope they will implant but this time it was different. This time I actually feel as if we have a chance. I'm not going to say that I don't have my worries because I do but this time getting PG is actually a possibility.

I'm visualizing Apricot and Buttercup with suction cups on their feet. Hopefully they will snuggle in and implant. For now all I can do is HOPE. Funny how in the beginning hope is such a bitch and towards the end that's what we rely on and gives us strength.
| posted by Liz at 12:09 PM |
32 comments