I had my appt today. The babies are doing well. I love seeing them. I still haven't felt any movement. I've felt something but I'm not sure what it is, maybe it is movement.
They were both moving around a lot...it's so cute to see. Hannah was well behaved and did not hit Matthew today.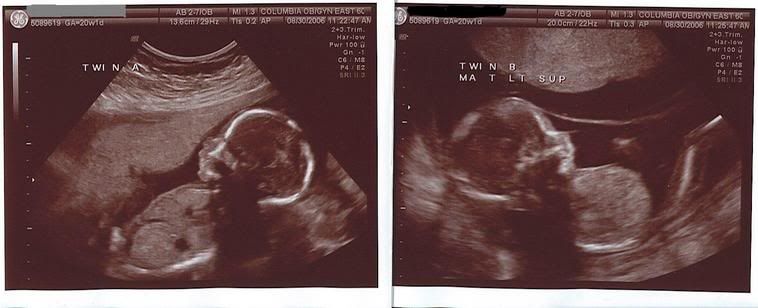 Hannah ~ Twin A
Matthew ~ Twin B

The swelling has gone down and it's not so uncomfortable to walk BUT my cervix is shortening. Two weeks ago it was a 4 and today it was 2.8. As such, I have been placed on bedrest until further notice. I go back on Friday for another u/s. I am going to try to take it one day at a time and not stress.
I can't believe I'm 20 weeks PG...what a milestone. I will not let this get me down. I've come this far and truly believe that in the end all will work out.
I went to see my doctor on Friday because the swelling was worse. My legs were also swollen and it hurt when I walked, bent down, and went up the stairs.

I have twins bilateral edema and have been placed on modified rest until my next visit on Wed. They recommended a not too fashionable $100 compressed thigh high support hose to help with the swelling. Well it appears to be helping/working. My legs are starting to look normal again. Hopefully the swelling will continue to go down and I can return to normal activities.

Although it's not strict bed rest I have to limit my walking and I need to maintain my legs up. To be honest it feels like house arrest. Ivan is so worried about something going wrong that he is very strict as to what I can do. If it were up to him I wouldn't even stretch. I like that he also shares my fears and his over protectiveness is very cute.

I'll be home tomorrow so I will catch up on what's going on in blogland.

P.S. Thanks for the advice on my last post.
Sorry that it has been 4 weeks since my last update. When I get home I am so tired that I just want to lie on the couch or bed.
All is going well. I had my Level II u/s last Wed. and everything was fine. It's great when I get to see them. Hannah was VERY active. She just wouldn't keep still. At one point she punched Matthew...it was so funny. Matthew is laid back. It appears Hannah is like her mommy and Matthew is like his dad. I can't get over how they already have different personalities.
I'm 19 weeks PG and I've gained 20 lbs. The back pain is still there but now I have to deal with SWOLLEN feet and when I say swollen I mean swollen. Ivan refers to them as flintstone feet. The dr. said it's due to the salt intake. If anyone has any suggestions on how to deal with that PLEASE advise.
We are looking into getting a bigger place to make room for the kids. Once we have that we will start getting the nursery ready....that should be so much fun. I haven't registered yet but I already have my list of things that I want/need.
Hope everyone is well and enjoying the summer. I can't wait for the fall.