We had our 15 wk u/s today and as always it was an amazing experience. It's great to see the babies and know that they are doing well. Seeing and hearing the heartbeat takes my breath away. I still can't believe this is happening, I can't believe it's true.
We got nice pics of the twins but this one is my favorite.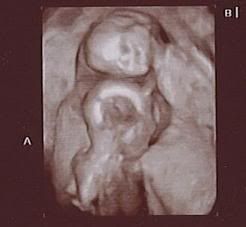 I call it the snuggling pose. It was beautiful to see that even before they are born the little boy is snuggling with his sister. It was warm to see that affection already. Twin B - Matthew is leaning on Twin A - Hannah's head. At one point he was sucking his thumb. Yes, their names are Matthew and Hannah, to be exact Matthew Alexander and Hannah Stella (Stella was Ivan's mother's name).
All is going well with the pregnancy. I'm a little concerned with the weight gain as I've already gained 13 lbs but the doctor doesn't seem to think it's too much too soon. I will start cutting down on carbs, as I'm a carb whore. I've been having some pains which the doctor said are due to the ligaments stretching and the uterus shifting. My next appt. is in 3 weeks for the Level II u/s...that should be fun.
Hope you are all well.
No more Apricot and Buttercup the twins will now be referred to as Hansel and Gretel.
We got the results of the genetic testing and we're having a GIRL and a BOY....I am over the moon with excitement. This is so perfect, I can't believe it. Ivan always suspected that Dr. S put back a girl and boy embryo.
Tomorrow I will begin the 2nd trimester...wow how time flies. I'm feeling better although this weekend I felt very queasy and was in a lot of pain but I'm not complaining.
I can't believe I'll be 13 weeks tomorrow. I never thought I would get this far heck I never thought I would be PG. Sometimes it feels like a dream...a wonderful dream.
My belly is getting bigger but I'm still in that awkward stage where I just look and feel fat. I'm dying to get bigger and use maternity tops. Right now if I did I would just look like a fat girl with a big shirt. Maybe I'll post a pic so you can all have a nice laugh.
I think now that I've overcome the hurdle of the 1st trimester I can start enjoying things and believing that all will be okay.