Sunday, July 31, 2005
Day 5 transfer....YAY!!!!!!!!!!!!!!!!
The embryologist called and all the embryos are doing good. Most of them are at 4 cell so I will have a day 5 blastocyst transfer. I was praying for a day 5 transfer because it increases your chances of implantation and because the embies are at the blastocyst stage they can transfer less. We are putting in 2 embies...twins would be great!!
I am estatic about this. I had been feeling so negative about the cycle and it seems to be going great. I am very hopeful and will be optimistic until the very end.
| posted by Liz at 10:35 AM |
7 comments

Friday, July 29, 2005
Momma hatched a lot of eggs....
23 eggs were retrieved....WOW!!! The ER went very well and Ivan was able to give his contribution without any problems. I was a little nervous, Ivan was very nervous and had to leave when they started the IV...what will I do with him when I'm in labor.
Overall the ER went smoothly. No complications and the results were better than expected. I am feeling very happy and hopeful. We find out tomorrow how many embryos we have and how they are fertilizing. I'm crossing my fingers for a day 5 transfer (Wed) but obviously will be relieved and happy to do a day 3 transfer. We are still discussing whether to transfer 2 or 3 if it is a day 3 transfer.
Thank you for your encouragement through this...you are all great!!
*********************
7/30 update:
Fertilization report:

24 eggs retrieved
18 mature eggs
13 fertilized normally
5 fertilized abnormally (1 egg 2 sperm)
She will call me tomorrow with an update on the grade/cell and whether it will be a day 3 or day 5 transfer.
| posted by Liz at 6:25 PM |
7 comments

Wednesday, July 27, 2005
Finally positive news....
I went for my u/s this morning and got great news. The antagon helped stop ovulation. My estrogen is still fluctuating but it shouldn't be a problem. The increased Gonal-F and mental messages to my ovaries worked...on Sunday I had 14 follies and today I have 24, 14 of which are over 15...YAY!! When I left the clinic I was able to smile and I actually felt positive. I knew it would be okay to be hopeful and hopeful I am.
It gets even better.... I trigger tonight and ER is on Friday!! I am nervous and excited about it but hopeful.
I will try not to get caught up in the negativity and not stress myself out. The wait will be very hard...the most difficult one I've had. I know what ever happens I will not give up until I'm holding my little one.
| posted by Liz at 11:05 PM |
5 comments

Tuesday, July 26, 2005
There is hope after all.....
This truly has been an emotional roller coaster....all these ups and downs...highs and lows....very frustrating but the good news is that I can continue. My blood levels are still sporadic so I will continue on the increased antagon and they also increased my Gonal-F in the hopes of a growth spurt.
I am crossing my fingers that I will be able to trigger tomorrow and have ER on Friday. I asked but they are very cautious as they don't want to give you unrealistic expectations. Right now I need 1 more follie to grow to 17 mm and then I can trigger.....so please say some Grow Follie Grow chants for me.
| posted by Liz at 3:11 PM |
4 comments

No hope left....
Nothing new to report since my post on PW…still losing it.
Went to the clinic today. U/S looked okay, not too much of a difference from yesterday but she stated it didn't show I had ovulated. Today's b/w will be the determining factor. They will call after 4:00 to let me know if I can continue or the cycle will be cancelled…the waiting is so hard. I'm tired, drained…. I just don't feel anything…I don't want to feel anything.
I had a good cry last night and was able to start processing things. It helped but in a way I know I'm just trying to rationalize things. It's hard when the meds make me so emotional, more sad than anything else. I know the anger is based on my disappointment and disappointed I am.
What a process…I knew it was going to be hard but until you are in it you just don't know. I guess I will be prepared for next time…YES, I think there will be a next time.
| posted by Liz at 12:10 PM |
2 comments

Monday, July 25, 2005
Finally a growth spurt!!
I'm so relieved there was a growth spurt. Yesterday the follies measured at 11-13mm with one at 15 and today there were as per dr. "quite a few at 15 and 16mm". Once there are 2 measuring 17mm they will schedule ER.
This has been such a long process. I've been stimming for 12 days and the meds and everyday b/w and u/s are getting to me....especially when there isn't much progress. I confessed to the dr that I am feeling very negative about the cycle. She did the best to reassure me that things were moving along but I feel as if I have to prepare myself for a disappointment. I hate this. I feel as if I am just going to lose it. As much as I want to be positive and hopeful it is SOOO hard. I have to find a way to "relax"...oh no trigger word that makes me lose it. Some how I have to cope with the uncertainties and trust and believe that what is meant to be will be.
| posted by Liz at 12:47 PM |
3 comments

Friday, July 22, 2005
The Cycle Continues...I guess I can be hopeful
Well the doctor seems optimistic about the cycle so I guess so should I. Although the follies are developing slowly they are developing therefore I can continue. I was so worried. This has been so hard. I've been feeling so emotional lately. I was so excited to begin and now that I'm there I'm riddled with negativity and anxiety. I've decided that worrying is only going to make me feel worse...so I will try to take it one day at a time. Based on what my b/w and u/s results are I will be positive or negative about it.
The meds are kicking in, I've been feeling sad, angry, confused. I don't like the mood swings because it's hard to control them. I can be happy one minute and then I'll just get upset. Hopefully it won't last long but then again I will be "hormonal" when I'm pregnant so this is sort of like a rehearsal. Ivan is surprised that I haven't "lost it". I've been trying to keep it all in so I'm sort of more reserved and I'm trying not to interact too much.
Thanks for your encouraging words on PW.
| posted by Liz at 2:52 PM |
6 comments

Thursday, July 21, 2005
Feeling very negative
As much as I want to be hopeful and positive I just can't. I am so worried that the follies are progressing too slow and the cycle will have to be cancelled. I know that's better then getting a - but the thought of it just makes me sad and angry. I don't know how to be optimistic. I have to wait for today's b/w results and I guess the next u/s will be the determining factor. If it is going to be cancelled I want it to happen already. I hate the thought of going through this and being cancelled. I hate all of this. I'm angry that my body can't even cooperate with this.
I will stop now b/c I'm getting emotional.
| posted by Liz at 11:17 AM |
4 comments

Sunday, July 17, 2005
Thanks


I wanted to let you know how much I appreciate your support. It is so hard to find people who truly understand what and how I am feeling. I've tried talking to friends but sometimes its best not to even discuss it. In the last couple of weeks I've "toned down" how much I've been sharing. If they ask I try to respond in a positive manner and go on to another topic. In reality I'm bursting inside wanting to talk.

You ladies are wonderful…your words of encouragement have been very comforting. Although I don't personally know you, you all have a special place in my heart. It has been great to find people who understand what I am going through.

Thanks for your supportive comments and for sharing my journey with me.

Bev...thanks for being my one "fertie" friend who has truly tried to understand me and has been very empathetic. Thank you for listening and for always being sensitive to my feelings. I will miss you when you move.

Catherine…I'm so glad we got paired up as prayer partners on the old board. You have been so understanding and supportive. I'm grateful for your friendship and I'm so happy that you are pregnant and everything is going well.
Daniela...thanks for listening and your constant support and of course for always being there when I need to pig out with "our" comfort food. I know you will be a great Titi.

Ally…thanks for your encouraging words…"chin up grasshopper". I know things haven't been easy for you and I hope they will soon get better. I pray this is your month.

Heather…thanks for sharing your IVF journey and for your support. Its great to know if I have a question there's someone who understands. I'm so happy your pregnancy is going well and I pray that it continues.

Jenn…thanks for your support. I'm so happy that your pregnancy is going well and I hope the cysts won't cause any problems. May you continue to have a happy and healthy pregnancy.

Jenna…thanks for caring and being so understanding. I'm glad that we have been corresponding...I feel such a connection. I hope things get better for you and you will be blessed very soon. Looking forward to talking to you soon.

Lesley…thanks for your support and encouragement. You always find a way to make me smile…thanks. I'm sorry for how you have been feeling and I pray things will get better soon. You are a strong woman, very determined and you will overcome this…remember we're here for you.
| posted by Liz at 9:05 PM |
8 comments

Thursday, July 14, 2005
First shot and survived
First shot down…. let's see how many more to go 30, 40, 50….oh my. I was a nervous wreck. I kept reading the instructions, grabbing too much skin, and dropping the alcohol pad. Ivan was great…I was surprised and very grateful. He was by my side, rubbing my side and back as I did it and saying, "you're doing good". When I finished he counted to five and then said, "okay you can take it out". I was still scared and wouldn't. He then sort of demanded that I take it out. I was envisioning blood gushing out…I have a very vivid imagination and was sort of disappointed but yet relieved when there wasn't even a drop of blood in sight. When it was over I could breathe and thought, "I can do this". I then ran to the bathroom.


This is the first of many milestones to come.

I'm excited and nervous but right now I'm in control of my feelings so I can handle it…let's see next week.
| posted by Liz at 11:00 PM |
5 comments

Saturday, July 09, 2005
Got my meds!!!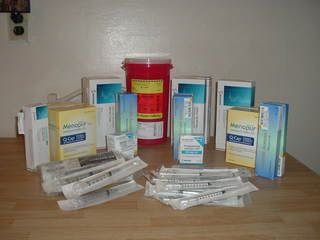 I feel like a kid on Christmas morning. I am so excited...it is finally going to start.

I was shocked by 2 things: the amount of meds & syringes and the cost...$5800 but so worth it. This has to work!!! So on Monday I will take my last BCP and Thursday I will give myself my first shot. Of course I'm driving myself crazy because I don't recall how I'm suppose to do it...the medication class was a month ago of course I'm going to forget. Ivan remembers so he will be coaching me until it's his turn to give me the IMs. I can't wait for that...he's a needle phobic so that should be fun. Instead of him comforting me I will comfort him...heehee.

I'm glad I can joke about this....if I don't I will lose my sanity.
The picture does not look very intimidating because the syringes are inside the box. Each box contains 3-5 syringes with the medication vials. After sorting them out I realized they did not send me the syringes for the PIO shots or the menopur. I called and was told I will receive 55 syringes on Tuesday....ouch!! I will update the pic.
Picture updated.
| posted by Liz at 9:20 AM |
9 comments

Tuesday, July 05, 2005
Waiting
This 2WW before starting stims is SO hard….I'm eager to start!! I'm just looking forward to doing something active in terms of TTC. This past few months of just waiting and not being able to do anything hasn't been easy.

I'm trying to have a positive attitude and remain optimistic. For now all I can do and all I will do is believe that it will work. I will not allow myself to get "sucked" into all the negativity that I've been feeling for months.

I got together with an old friend over the weekend and as we talked about what has happened in the past year it made me realize how much I've given up. I've lost interest in things, ended friendships (although that might actually be a positive thing), we get so caught up that we don't realize just how much infertility impacts us. It not only makes having a baby difficult but in many ways it takes our happiness from us. At least that's the case for me. I wish that I knew then what I know now, I think I might have been able to handle things differently but maybe it's one of those lessons that we have to learn. I know I've changed because of this experience and I know that for whatever the reason I had to go through this. I hope that next year when I think about what I've been through I will have my miracle baby by my side. I hope and pray we all will. We can't lose hope….we can't give up our dreams.
| posted by Liz at 3:05 PM |
6 comments