Tuesday, January 31, 2006
Meet Nemo and Frosty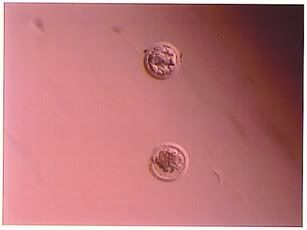 We've named the embies Nemo and Frosty. Nemo is on top.
The transfer went well. Our fresh embie, Nemo, cultured into a perfect blast. The embryologist stated it is one of the best embryos we've had. Frosty thawed very well.
My RE and the embryologist are very hopeful about it. They think it was an excellent idea to combine the fresh with a frozen and are very optimistic. I'm neutral. Of course I want to think positive thoughts but it's hard. Right now I'm just taking it easy and dealing with the bedrest. Ivan took off yesterday and today to make sure that I don't walk around. I'm confined to the sofa or the bed. He's being very sweet and protective. I'll be out on Thursday.
Boy was this last week stressful. I wouldn't have expected it any other way. I know better then to expect things to go smoothly, which is why sometimes it's hard to be hopeful.
I want this to work so badly but I'm scared. My beta is next Wed, 2/8. I can't believe in a week I will know. For now I'm PUPO (not putting up the blinkie don't want to jinx it).
| posted by Liz at 12:54 PM |
21 comments

Friday, January 27, 2006
Waiting
We lost one of the embryos. It stopped developing yesterday afternoon. The one that is developing is a 4 cell with no fragmentation. The embryologist stated it is textbook perfect. She didn't want to schedule a time for the transfer in case it didn't continue to develop. I then stated that I was not going to transfer only one and we discussed combining it with one of the frozen blasts.
I'm so frustrated with this process. Honestly I'm ready to just call it quits. Ivan was upset that I didn't want to transfer the one that has developed and that we have to wait but at this point I think I'm entitled to make all the decisions. I'm the one going through everything.
The uncertainty of all of this is nerve wracking. I can't believe we've had so much difficulties with the 2nd and 3rd cycle. Maybe I should have just done a frozen right after the first and avoided all this. Our plan all along was to do 3 fresh cycles and freeze more and use our frozen blasts as our last option. It seems that's where we are now…not very comforting.
The embryologist was going to discuss it with the doctor and get back to me. If they are in agreement then the transfer will be on Monday.
Update:
We will be doing a day 5 transfer on Monday. The remaining embryo we have will be cultured and hopefully will develop into a blast where it then will be transferred with one of the popsicles. If it doesn't develop then we will transfer 3 pops.
| posted by Liz at 1:31 PM |
20 comments

Thursday, January 26, 2006
Disappointment continues
Fertilization report:
12 eggs retrieved
11 mature and were ICSI'd
3 fertilized
1 abnormally
2 fertilized normally
2 is what we have to work with. She explained that it appears the egg or sperm have more genetic material then needed and that is why they are not fertilizing.
They will call tomorrow and let us know how they are fertilizing. Obviously this will be a 3-day transfer unless there are none to transfer. At this point who the hell cares...it's not going to work anyway.
I am baffled and feel cheated. I just assumed that with ICSI we wouldn't have any problems. I don't know why this has happened again. While I was home yesterday I felt hopeful. That bitch hope has slapped me again.
| posted by Liz at 10:33 AM |
18 comments

Wednesday, January 25, 2006
Did someone order a dozen eggs?
They got 12 eggs. Some were too far back and could not be reached.
The retrieval went well but I had some minor complications afterwards which required me to stay almost 3 hours in the recovery room. 45 minutes into the recovery and I started feeling a sharp pain on my right side which started shooting down my leg. The nurse called the doctor and they did an internal exam (as if I needed more probing, especially with the speculum). It turns out my left ovary was causing pressure and I had a muscle spasm in my lower back.
They gave me something for the pain and had me stay in the bed with a heated blanket and heated IV bags on my stomach and lower back. When the pain finally started to subside I was able to leave.
I'm home relaxing and watching episodes of Nip Tuck on DVD. Ivan is of course very attentive and scolds me when I walk around.
Tomorrow we get our first fertilization report. I am very nervous about that. That's when it started to go downhill last cycle. I keep repeating all we need is 3....yes, we are going to transfer 3.
| posted by Liz at 5:46 PM |
10 comments

Monday, January 23, 2006
I trigger tonight!!!
I just got the call...I am so excited. I will give myself the shot tonight at 11:30. My ER is scheduled for Wednesday at 9:30.
Okay, I'm starting to feel hopeful now.
Funny I was just on the phone 5 minutes ago getting info on another clinic for cycle #4.
Hope this works!!!!!!
| posted by Liz at 3:44 PM |
20 comments

Waiting for the call
U/S # 5 = 17 follicles
1 measuring 19 mm, 3 measuring 17 mm, 2 measuring 16, 4 measuring 15 mm, 5 measuring 12-14 1/2 mm, 2 measuring 9-10mm
Since I have 4 measuring 17 and above I might trigger tonight. They are waiting for the results of my E2 which yesterday was 2446. If it is not too high they will have me stim one extra day to help the little ones develop more. Whether I trigger today or tomorrow I am excited.
I'm so happy this part of the cycle will soon be over. I will be very pleased when I can stop the lupron. Oh but what awaits me...the dreaded PIO...OUCH. Oh well it's a small price to pay.
| posted by Liz at 11:30 AM |
4 comments

Sunday, January 22, 2006
U/S # 4
Follie count = 17 follicles.

I have 1 measuring 18 mm, 10 measuring 13-15, 5 measuring 10-12 1/2 and 2 at 8 mm. It was reassuring to see things are progressing.

I'm feeling better today. I wasn't all that depressed yesterday and haven't felt as hopeless. No positive thoughts but no negative thoughts either. As I balanced our checkbook yesterday I started thinking about what our next step would be. Could we afford another fresh cycle or should we do a FET. I stopped myself and redirected my thoughts to taking it one day at a time. Hey this might work...wouldn't that be great.

I've been thinking about how many embies to transfer. In the past we transferred 2 blasts and 2 embies but Ivan and the doctor feel we should transfer 3 this time. I have lots of reservations and fears about this but I'm leaning towards it because it will only increase our chances. What's the worst that could happen they all implant...OMG. I'll cross that bridge when I get there. It is exciting just to think about it.

On to more exciting news. Ivan has a concert this afternoon. He use to be a professional classical guitarist but this is his flamanco debut. I am so excited for him. He has been a nervous wreck these past few days. He's also been feeling down and of course blamed it on the lupron...he cracks me up.

Hope everyone is doing well. Thanks so much for your support and most of all for being hopeful for me!
| posted by Liz at 10:44 AM |
7 comments

Friday, January 20, 2006
U/S # 3
12-13 follicles. I didn't ask about the measurements and didn't bother trying to figure it out. I just laid back and daydreamed. As much as I wanted to look at the screen I didn't. It's just so hard. I don't look at the follicles with excitement about the possibility of a pregnancy. They are just there.
I'm frustrated with my lack of hope and faith. I tried explaining to Ivan but of course we ended up arguing about it. He doesn't seem to understand why it's so hard for me to be hopeful. I'm sad to say but I'm ready to call it quits. The way I feel right now I would end this cycle now.
I'm trying to convince myself that maybe it's the meds making me feel so down about everything. Here I am doing IVF, injecting myself every night and I have no hope that it will work. At this point I don't care and that is the hardest part of all. Am I in a funk, is it the meds or am I slowly coming undone?
| posted by Liz at 10:17 AM |
12 comments

Wednesday, January 18, 2006
U/S # 2
Follie count for today - 12 follies. They are measuring 7-9 mm. Things are progressing well and I'm not stressed out. I remember the excitement that I had with my first cycle. I sort of wish I had that now. It would be nice to believe that this could work.
As I sat in the waiting room, which was longer because I arrived after they had stopped doing b/w and u/s I thought about the future. Would this work? What will be the next step? What is in store for me? When will I give up? That was the worst one.
I don't want to give up but sometimes it's hard to keep going. Am I chasing a dream that will never become a reality? Have I missed all the signs that were sent to let me know this wouldn't be. Hope- where are you?
| posted by Liz at 3:38 PM |
14 comments

Monday, January 16, 2006
U/S # 1
Today I went to the clinic for my b/w and u/s. After 4 days on stims I have 10 follicles....very happy about that. On the way to the clinic I told Ivan I wasn't going to stress about it and would be happy if there were only 5. When I saw there were 5 on the right I breathed.
Ivan asked me if I was feeling hopeful. I'm not, for now I will take it one day at a time and not stress about things. I'm going to try to avoid negative thoughts. As long as things continue to progress there is no reason for me to worry. Am I hopeful - NO, I am realistic to know that something could go wrong but I will not think about that.
The side effects are starting to decrease...fortunately. No hot flashes today and just a slight headache. Ivan on the other hand is cranky, he says it's from the lupron. For some reason he goes through mood swings while I'm cycling. I experience the physical side effects and he experiences the emotional ones. I think it is hilarious. Maybe when I'm PG he'll have the cravings and weight gain....I can dream.
For now all is well with the cycle and I'm okay.
Update:
E2 - 286
Follistim increased to 450. I go back on Wed.
| posted by Liz at 12:34 PM |
17 comments

Thursday, January 12, 2006
IVF # 3
The fun begins…I start stims tonight. In a little while I will lock my door and inject. Oh what a sight if someone were to walk in.
I'm feeling horrible. The lupron is giving me terrible headaches and I'm having hot flashes. The last couple of nights I was so hot that I had to sleep in the living room with the windows open. I keep telling myself no pain, no gain…this has to work. I'm hoping with the decrease in Lupron these annoying side effects will disappear.
Jenna called me earlier and asked if I was feeling hopeful. I want to and I think that now that I'm starting stims hope will come along. I'm worried but as with other things in life there are no guarantees. All I can do is try, hope and pray that it's successful.
| posted by Liz at 2:45 PM |
14 comments

Monday, January 09, 2006
How do I prepare to start?
I am suppose to start stims on Thursday. I've been anxiously waiting for this and now that it's here the eagerness is not there. I feel that I'm going through the motions. Just another thing I'm doing. It's hard to explain. I'm not going into this thinking it might work but thinking "I'm doing something to try, if it works it works". I don't have any hope that it will work. I know this is my way of coping with the disappointments and at this point after cycle 1 and 2 this might be my attempt of self-preservation.

I'm scared of another failure. I'm tired of trying to be optimistic. I haven't tried talking to Ivan because I know he won't understand how I'm feeling. At this point honestly I'm ready to call it quits. I just don't want to go through the pain (emotional) again.

I won't quit because then I will always wonder what could have been. So I will do another cycle but I'm not hopeful. At this point I have no faith and don't believe in miracles.

| posted by Liz at 4:29 PM |
14 comments

Thursday, January 05, 2006
Am I psycho yet?
Well the Lupron is definitely kicking in. I started getting headaches Tuesday evening. Yesterday's was horrible. It was my day off and I was home until 4. I managed to crawl out of bed in time to pick up my follistim pen at the clinic.
As per Ivan, I've been a little snippy and I admit that I have noticed that I'm quick to respond, of course in a negative manner. It's a small price to pay for what hopefully will be a wonderful miracle.
I'm trying not to think too much about the cycle. Once I start stims and start going to the clinic for the follie scans I know the obsession and worry will begin. It's been good so far.
Am I hopeful? I'm trying to be or at least I'm trying not to be such a pessimist. Ivan will be hopeful until the very end. We've talked about what the next step will be if we're unsuccessful again. Even if you're hopeful a Plan B is always good to have.
I'm very excited to have finally started...I'm not good with waiting. Hopefully there will finally be a happy ending to this.
| posted by Liz at 9:06 AM |
18 comments

Monday, January 02, 2006
Here We Go Again...

I did my first shot of Lupron tonight....what a relief to finally start. Ivan is worried that I will have raging hormones and will go psycho. I'm hoping the side effects won't be too bad but if they are it is worth it. I start Follistim and Menopur on the 12th. I'm going to be hopeful until the very end.
Here is a picture of a gift that Ivan gave me on Friday for starting IVF #3. I think it is so sweet of him to give me a gift before I start each cycle. IVF #1 - Tiffany cross necklace, IVF #2 - we went to Barcelona, IVF # 3 - Angel's Whisper.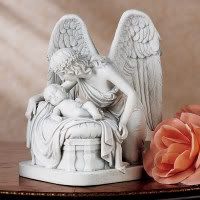 Angel's Whisper - it is a celtic belief that sleeping babies smile because angels whisper in their ears. He wrote on the card that he knows one day we will have an angel whispering to our baby.
I may not have a baby but I am blessed with a wonderful husband.
| posted by Liz at 7:18 PM |
19 comments