Tuesday, December 26, 2006
Our bundles of joy
It is with much happiness that I write this post. For so long I thought our dream would not come true and on Dec. 20th at 2:20 and 2:22 PM we were blessed with Hannah and Matthew.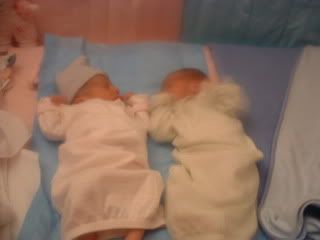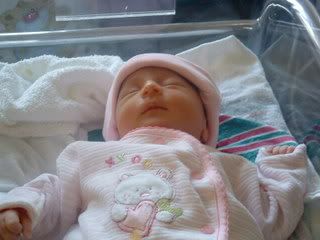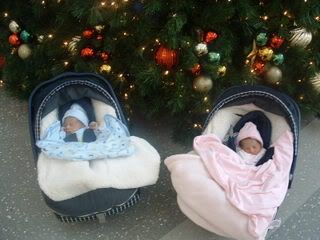 We are full of so much joy. Thank you so much for your support during this long journey.
I will post more when things are more settled.
| posted by Liz at 2:07 PM |
27 comments

Thursday, December 14, 2006
The countdown begins....
I went for my regular appointment yesterday and was given a star for Hannah's amniotic fluid increasing. It went from 2.9 to 3.1. They were very pleased and of course so was I. We were able to see the twins breathing...what a sight. It pleased me very much to know they are able to breathe on their own. I had the group B strep test and while they were doing that they checked my cervix and I was 2-3 cm dilated. That prompted the doctor to move up the c-section date to....Wed. Dec. 20. A week away...oh my, I can't believe it's that soon. I am nervous and of course excited. There are still some things I have to get them, including their Christmas outfits. Jenna, I will try to remember to get the stockings.
Thanks for your good wishes!
| posted by Liz at 4:37 PM |
18 comments

Saturday, December 09, 2006
The end is near....
Bedrest hasn't been too bad. With all the appointments I have it doesn't seem as if I'm on bedrest. I had a BPP (biophysical profile) and Hannah's amniotic fluid was low (2.9) so I am being monitored more closely now. I have to go to the hospital Tuesdays and Fridays for a non-stress test and Wednesdays to the clinic for my regular appt and BPP. It won't be for too long because the tentative c-section date is Dec. 26!!!!!! If the fluid drops then they will do it sooner.

Must admit I'm glad the end is near...it is so hard to get around, everything hurts. I feel guilty saying it but it's true. Sitting is uncomfortable, walking is a very hard task. Matthew's head is up my rib cage and Hannah is very low. No matter what I still don't want them to come before 36 weeks although based on the measurements they would be fine if I went into labor. At 34 weeks Hannah is weighing 4 lbs 9 oz and Matthew weighs 4 lbs 13 oz. They will definitely be coming home with us.

We are so thrilled that they will be born soon. I think Ivan is more excited then I am. Anxiety is kicking in and I'm starting to question my ability to care for them. Fortunately I will have my mother to help me so that is a relief.

Hope everyone is doing well.
| posted by Liz at 1:01 AM |
8 comments